A NIE (Número de Identidad de Extranjero) is required for almost everything in Costa Blanca North, Spain, and applying for a NIE should be one of your top priorities when you arrive in Costa Blanca North as a newcomer. But what is a NIE and how do you get one?

All resident and non-resident foreigners with financial affairs in Spain – regardless of whether they are EU citizens or from a non-EU country – must have a foreigner's tax identification number or NIE (Número de Iden- tificación de Extranjero). This is the equivalent of a Spaniards Número de Identificación Fiscal (NIF) which serves as a fiscal identification number.

The CIF number (Certificado de Identificación Fiscal) is equivalent to the NIF, but applies to companies.


Who needs a NIE number in Costa Blanca North
Anyone with financial, professional or social interests in Spain needs a personal identification number. The NIE is essential for any fiscal transactions in Spain where money is paid to the Spanish Inland Revenue office. The NIE number should be quoted in all dealings with tax authorities. The number appears on all documents issued in Spain.


Instances in which a NIE is absolutely required in Costa Blanca North:
1. Open a bank account
2. Buy, sell or insure property
3. Arrange credit terms or a mortgage
4. Pay taxes
5. Be paid for employment
6. Use short-term employment agencies
7. Apply for a business permit and start a business
8. Register with social services and arrange receipt of social security benefits
9. Apply for a driver's license

An EU-citizen applying for their certificate of residence (certificado de registro) will be issued an NIE number at the same time. Applications for an NIE can be made at a police station with a foreigners' department (Oficina de Extranjeros) of a national Spanish police station (comisaría), or by contacting the local regional government; either in person or through a representative.


The following documents are required to apply for NIE number
1. An application form, the Solicitud de Número de Identidad de Ex- tranjero (NIE) y Certificados (form EX-15), filled out and signed.
2. Do not sign the completed application form until in the presence of an official
3. Receipt for payment of the fee, stamped by the bank
4. Identity card or original passport and photocopy
5. Two passport photographs
6. Documentation supporting your N.I.E application:
– a contract demonstrating that you are buying a property in Spain;
– a contract demonstrating that you are buying a car in Spain;
– a job contract from a Spanish company;
– if self-employed, a company ownership certificate
– if not working, proof that you have sufficient funds to support yourself;
– if a student, a letter of acceptance from a school or college;
– if you are looking for a job, you will be issued with a temporary NIE number valid for 3 months.

Certified documentation stating the reasons for applying for the NIE may be required. Download and complete "Form EX-15: Solicitud de Número de Identidad de Extranjero (NIE) y Certificados". It is in PDF format with the ability to fill in your details on the screen; if the required fields are not highlighted, click on the button in the top right ('Highlight Fields' | 'Resaltar Campos'). When completed, click on the [IMPRIMIR] button at the bottom of the form to print it.

Download Form EX-15 (PDF Link open i new window)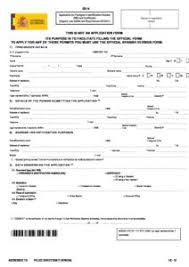 Note: In some parts of Spain (including Costa Blanca) the application should be made at the office in question where the forms used are auto- carbonated copies. However, in others areas the printable form, EX-15 is accepted.

Once the application is submitted, processing may take a month or more. Usually, the office will issue a date to collect the NIE which should be done in person; notification is not made by post or telephone. In some locations (Madrid is one such) the NIE may be issued immediately.

A non-resident needing an NIE number (for example, to purchase property), may be able to apply through the Spanish Embassy of their home country. There are also companies and individuals – gestor/gestoría – able to help with this process remotely.


Where can you apply for NIE nearby Costa Blanca North?
It is possible to make an appointment ONLINE using this link. Select [Alicante] from "Provincia Seleccionada" then select [Asignación de N.I.E.] from the next drop-down box. You will be presented with a series of requirements needed to complete the application during your appointment, including the completed EX-15 form – in duplicate – as well as copy of your passport


Apply for NIE number in Denia
OFICINA DE EXTRANJEROS DE DENIA
Address: Avinguda del Marquesat, 53
03700 Denia (Alicante)
Phone: (+34) 96 642 68 86
Open hours: Mon-Fri 9am to 2pm

Map OFICINA DE EXTRANJEROS DE DENIA



Apply for NIE number in Teulada and Moraira
An appointment has to be made with SIT office of the Ayuntamiento de Teulada-Moraira for Tuesday morning only between 9.00am and 1.00pm.

AJUNTAMENT DE TEULADA
SIT (Servicio de Interés Turístico)
Address: Avda. Santa Caterina, 2
03700 Teulada (Alicante)
Phone: 96 574 01 59 / 96 649 09 76
Open to book appointments: Mon-Fri 8.30am to 4pm

Map SIT (Servicio de Interés Turístico)
Destinations NIE Costa Blanca
Alicante – Alcalali – Altea – Albir – Alfaz del Pi – Benissa – Benidorm – Benidoleig – Benilloba – Benitachell – Calpe – Costa Blanca – Costa Blanca North – Cumbre del Sol – Denia – El Vergel – Gata de Gorgos – Finestrat – Javea – Jalon – La Nucia – Lliber – Moraira – Parcent – Pedreguer – Orba – Polop – Teulada – Villajoyosa