Residency in La Nucia, Spain. If you live more than 183 days in Spain per year you are required to become a Spanish resident. EU citizens don`t need to apply for a 'residence card', all those coming to live in Spain are required to register themselves as resident by applying for a "Certificado de Registro" from Foreigner's Office within three months of their arrival to Spain. Everything you need to know to apply for residency in La Nucia, Spain.

For a small fee Blanca International can help you obtain your residency in La Nucia, Spain. Contact us today or call +34 653 221 333.

Experiencing the wonderful life that Spain offers expats worldwide requires just one thing: getting the residency and becoming a legal individual in the country.This guide explains the registration processes you must complete obtain your residency in La Nucia, Spain. You must register both on the central register of foreign nationals ('registro central de extranjeros') and with your local town hall ('padrón municipal'). Children must also be registered on both systems.


How to get Spanish residency?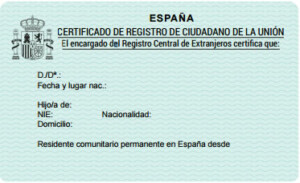 If you want to relocate to La Nucia in Spain permanently, it's important that you understand how to get Spanish residency. Becoming a resident in Spain is relatively easy if you have the necessary paperwork and proof of income, either by working here in Spain or proving you have enough income to support yourself. The local office to gain your residency is in Denia and it's a similar process to obtaining an NIE, you make an appointment, produce relevant documents and return to collect the green card after paying a small fee.

#1 Application for the Spanish Residency is made at National Police Documentation Office in Denia. Normally two visits are required. First you need to arrange an appointment for your application to be considered and processed. It is now possible to make an appointment for the for the Spanish Residency ONLINE using this link. Select [Alicante] from "Provincia Seleccionada" then select [Certificados UE] from the next drop-down box.
#2 Download and complete the Form EX-18 (PDF Format) Solicitud de Certificado de Registro de Residencia Comunitaria. When completed save the file and then print it. For family applications, download Form EX-19 ( PDF Format ) Solicitud de Tarjeta de Residencia de Familiar de Ciudadano de la UE
#3 On the day of the appointment – go to the police station in Denia. When called forward, hand over all the relevant documentation. They will check if all paperwork is correct, and then give you an official receipt which you will need to take to the nearest bank to pay a small fee.


#4 After paying the small fee return to the police station – you should be allowed straight back in, and they will call you forward straight away to take the form, and if its all good hand back a new "Certificado de Registro".

The certificate is valid indefinitely. If you live in Spain continuously for more than five years, you can opt for permanent residency.


Documentation required for applying for Spanish residency
The exact requirements for required for applying for Spanish residency will depend on the region in which you wish to live, as well as your own status. For example, depending on whether you are a pensioner, an early retiree or if you are working in Spain, there will be slightly different documents needed. However, the information below gives a general guide to what you will require.

What paperwork you need to obtain Spanish Residency Your NIE. The form S1 if you are a pensioner or proof of health insurance if not. Confirmation of payment for the residency in the bank. The completed residency application form. Passport. Proof of income. The recommendation is to always bring the original and a copy of each document in the list above.

#1 A valid passport or official identification.

#2 NIE – The NIE is a tax identification number in Spain, known in Spanish as the NIE, or more formally the Número de identidad de extranjero. If you are moving to Spain or have any economic, professional or family connection with the nation, you will need to apply for a Número de Identidad de Extranjero, or an NIE – which is a Foreigners' Identification Number. Similarly to a National Insurance number, your NIE number is an all-purpose identification number for taxes and social security, but specifically for foreign nationals.

#3 Completed form Form EX-18 or Form Ex-19.

#4 Padron – Certificado de Empadronamiento from the Town Hall where you live. The padrón is the certificate that enables you to apply for a SIP (health card) and other local benefits within your town, such as enrolling your child in a local school, obtaining a bus pass, or using the local library. Read more about Padron in La Nucia.

#5 Proof of income – You must be able to demonstrate that your life in Spain is financially sustainable. You will be expected to show bank statements that cover the previous three months and that you have a monthly income of above €800 per person. If you have come to Spain to work then your employer should provide you with un certificado de vida laboral – which is proof that you have work here.

#6 The form S1 if you are a pensioner or proof of health insurance if not. If you are under pensionable age, then you must have proof of Spanish health insurance if you are not going to work. The insurance must be fully comprehensive and you may also need to show proof of payment.

#7 Passport photos and copies of the above. The recommendation is to always bring the original and a copy of each document in the list above.


Contact information Residency in La Nucia Spain
OFICINA DE EXTRANJEROS DE DENIA
C/ Avinguda del Marquesat, 53
03700 Denia (Alicante)
Phone: 96 642 68 86
Opening hours: 9.00 am to 2.00 pm


MAP OFICINA DE EXTRANJEROS DE DENIA
Benefits Spanish residency
Obtaining Residency in La Nucia, Spain will give you a number of benefits. Below we have listed a few of them.

Renewal of your driving licence into Spanish.
Obtain your local pensioner's card (if you are on a pension).
Get your Spanish health card covered by Spanish social security (you can get it on an NIE if you're employed in Spain though).
Permanent residency.
Get on the Padron at your town hall (permanent status)
Destinations Residency Costa Blanca
Alicante – Alcalali – Altea – Albir – Alfaz del Pi – Benissa – Benidorm – Benidoleig – Benilloba – Benitachell – Calpe – Costa Blanca – Costa Blanca North – Cumbre del Sol – Denia – El Vergel – Gata de Gorgos – Finestrat – Javea – Jalon – La Nucia – Lliber – Moraira – Parcent – Pedreguer – Orba – Polop – Teulada – Villajoyosa