Are your thinking of buying a property in Teulada, Spain? Most people seeking to buy property in Spain naturally head for the Mediterranean coastline. In this article we will tell you everything you need to know about buying a property in Teulada.

The Teulada property market on the Costa Blanca North – especially the new-build sector has sprung back into action. The INE have also revealed that 40 per cent of foreign buyers in Spain were in the Alicante region (including Teulada).


Search and find your dream property in Costa Blanca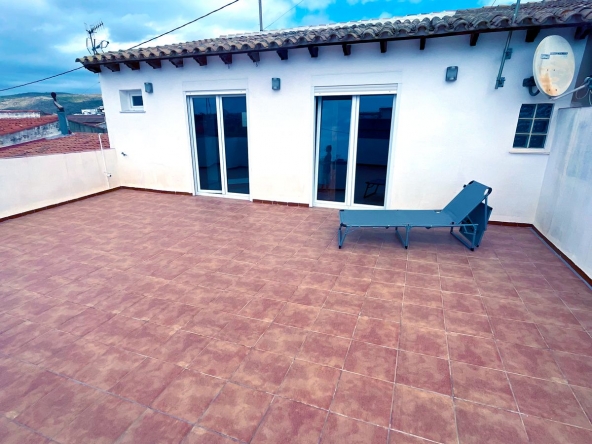 Costa Blanca
The white coast is over 200 kilometres (120 mi) of Mediterranean coastline and extends from the middle of Spain's eastern coastline close to the wonderful city of Valencia to south of Alicante. Spain's Costa Blanca is famous the world over for stunning scenery, clean beaches, friendly locals and plenty to do and see.

The Costa Blanca includes some of the most developed coastline in mainland Spain including the popular holiday resort of Benidorm. The resorts of the Northern Costa Blanca around Altea, Calpe, Denia and Javea are set against a rugged backdrop of mountainous coastline and attractive hillside villages.

The South Costa Blanca begins beneath the city of Alicante. This coast is much drier and flatter than Norther part of the Costa Blanca. The southern part of the Costa Blanca is flatter and is has the beautiful large sandy beaches. South Costa Blanca is also well-known for its good golf courses. Most of the best golf courses are situated around Orihuela.


Why do you want to buy a property in Teulada?
It is important to ask yourself why you are buying a property in Teulada. Do you want somewhere
for holidays or do you want somewhere as an investment to pass on to the family or do you seek a second or permanent home? Other questions you need to ask yourself:

Do you need rental income to afford the costs?
Rural or urban?
New build or older homes?
Standalone home with privacy or on an urbanization?
Amongst expats or mainly locals?
How far do you want to be from an airport, beaches and key amenities such as supermarkets and a local restaurant.

It`s important to consider the practicalities of owning a home in Spain and how much time and money you are prepared to spend on your Teulada property. Upkeep costs are a key consideration, especially if you are on a development with shared amenities, for which you will pay monthly service charges.


How to buy a property in Teulada
Search for the dream property – There are many ways you can search for a property to buy in Teulada. You can search the property portals and real estate agents webpages, or you can use a free property finder service. Finding your ideal home in Teulada, Spain can be hard work and very time consuming. Hours can be spent in front of a computer searching property portals only to be disappointed when the property you have chosen is no longer available. Using a property finder service will save you time and energy, and will do all the hard work for you.
Reservation agreement – When you have found your dream property in Teulada, the purchase process starts with a reservation agreement. This is a contract that freezes the purchase price and takes property off the market for, usually, 30 days on payment of a fee between €3,000 and €12,000. The deposit is usually held by your lawyer or your agent in a client or escrow account.
Contrato de Arras – Within 10 days of signing the reservation agreement, the full private purchase contract (contrato de arras) is signed between the buyer and the seller. Within this time your lawyer should complete all the searches on the property – confirming that the seller own the property being sold, there are no mortgages or charges and that planning consents are in order.
Signing the main contract – Once both parties sign the main contract, it is binding. The arras contract or full private contract will usually require a 10 to 20 per cent deposit to be paid. The buyer is then committed to pay the balance of the price, and the seller (once the money has been paid) must transfer ownership to the buyer.
Escritura de Compraventa – The property sale is formally completed when the title deed ("Escritura de Compraventa") is signed before a public official called a Public Notary, or Notario. This will happen at their office and be accompanied by the agreed final payment and all the relevant purchase taxes.
Land Registry – The Escritura is then presented by the Notary to the Land Registry for registration and the property is passed to the new owner. Final registation of the title deed can take several months.
Service contracts in your name – Finally, make sure that you have insurance for your property, ensure all service contracts are in your name (telephone, water, electrics etc.) and register your ownership of the property with your local Town Hall (Ayuntamiento) – all of which your lawyer or agent can help you do.
Tips when buying property in Teulada
Five good tips when buying property in Teulada that will help you understand the process, and to be prepared.

#1 Independent legal advice
If you are seriously considering buying a property in Teulada you need to start looking for a lawyer to
represent your interests throughout the transaction. Contact us and we can recommend you some good lawyers in Teulada. If you have a lawyer in place – and the funds to buy, then an estate agent will consider you a serious buyer which may also help you when negotiating the final price.

#2 Costs of buying a property in Teulada?
Buying costs it's typically 11 to 14 per cent for the purchase or closing costs, depending on the region of Spain, and the type of property. If you have a Spanish mortgage you need to add an additional cost of 2 to 4 per cent.

This includes:
Transfer tax (ITP), equivalent to stamp duty, calculated on the property purchase price and between 6.5 and 10 per cent, depending on the region.
Notario's fee of around 0.5 per cent of the purchase price, and tends to range from €300 and €1200.
Land Registry fees in Spain tend to be between €400 and €600 – or 0.4 per cent of the purchase price.
Legal fees are usually a percentage of the purchase price – generally 1 per cent plus VAT– but with a minimum fee. Typically this might be €1,000 to €2,000.

#3 Mortgages
We recommend you have your finance in place before you go and view properties in Teulada, so you won't lose out because the process is not a quick one. The mortgage market in Spain is quite traditional in the sense that having the right contacts is crucial if you want to get the best deals. The lenders all use what is known as a debt-to-income calculation as the basis for deciding whether applicants will qualify for a mortgage. We always recommend getting a non-binding offer from Morgage Direct, and you can read more about them here.

#4 Transferring your money abroad
Currency exchange is something that buyers often leave until the last minute when purchasing an overseas property, when in fact it should be considered much earlier. Buying abroad will almost always involve a transfer of money between currencies, meaning that if you skip your research and/or arrange a transfer through a high street bank, you could end you up paying over the odds in fees and poor exchange rates. Using a specialist currency company will ensure you get the support and expertise you need, as well as a competitive exchange rate. We always recommend getting a non-binding offer from Currencies Direct.

#5 Costs of being a property owner
The running costs of your Spanish property will depend upon the type of property that you buy and whether or not you become a fiscal resident of Spain. However, all properties are liable to council tax, IBI (Impuestos de Bienes Inmuebles). If you buy on some estates or urbanisations you will be liable for Community Charges (Cuota Comunidad de Propietarios), which are for the maintenance of the estate or the care and maintenance of the common parts of a block of flats.

If you are non-tax resident in Spain then you will have to pay an annual tax (Renta) on your property, as if you had made a profit from renting it out (even if you have not). This is a nominal tax but must be paid annually. Then you have the water and electricity, building and contents insurance and general maintenance.


Destinations to buy property Costa Blanca
Costa Blanca – Costa Blanca North – Alicante – Altea – Albir – Alcalali – Alfaz del Pi – Benissa – Benidorm – Benitachell – Benidoleig – Benilloba – Calpe – Costa Blanca – Cumbre del Sol – El Vergel – Denia – Finestrat – Gata de Gorgos – Javea – Javea Arenal – Javea Old Town – Javea Port – Jalon – La Nucia – Lliber – Moraira – Orba – Parcent – Polop – Pedreguer – Teulada – Villajoyosa